Our mission: Ensuring you live your best life!
Ambient Home Care is a licensed New Jersey Health Care Service firm regulated by the Division of Consumer Affairs and the Board of Nursing. All employees of Ambient Home Care are individually insured and bonded. We are a top-tier Home Health Care Agency. Our commitment to excellence in home care makes an undeniable difference to the clients we are privileged to serve. Ambient Home Care provides its hourly services to Ocean and Monmouth Counties and also provides its live-in services throughout the entire state of New Jersey.
The time is over when not being able to completely care for oneself meant having to go to a nursing home.
We provide the services that enable our clients to live independently where they want to be—in the comfort of their own home. Our services result in reduced hospitalizations, better overall health and less family stress. Remaining at home with one-on-one care is certainly the best alternative to assisted living and nursing homes.
We understand how difficult it can be for your loved one to adjust to a new person being in their home after they lived self-sufficiently for so long.
Finding the right match is so important and that's why we're are not happy unless you are completely satisfied. If the right match doesn´t happen the first time, we'll work until we find the perfect fit for you or your loved one's needs. Customer service is what distinguishes us from our competitors. We are available 7 days a week, 365 days a year.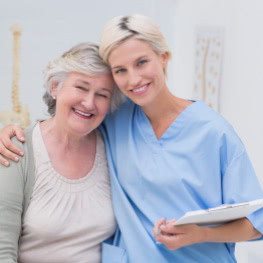 From as little as a few hours per day to full-time live-in care, Ambient is there.
Please browse this website for a wealth of information on the home health care services we provide. We are available 7 days a week, 24 hours a day. Getting in contact [Link to Contact Us page] with us is simple. Feel free to call us, e-mail us, or chat with us online. We can assure you that starting home health care services for your loved one will be easy; just allow us to do what we do best.
Top 5 Questions
At Ambient Home Care we understand that you want the best for your loved one. Assuming the role of an in–home caregiver to an aging parent or family member can be challenging and confusing. You should do your research before selecting a home health care provider. We have come up with 5 simple questions you should ask. You´ll be surprised at some of the answers you will find when you do your home work.
Does the Agency employ all of its Caregivers?

One of the most important attributes of a home health care agency is that they employ all of their caregivers. One way you can tell if an agency does this is by examining their payment system. There should be no exchange of money between the caregiver and the client. If you pay the caregiver directly, then you become the employer which means you are responsible for their deductions such as social security, federal, state and local taxes. Click here for an interesting article regarding the risk involved with hiring directly or through registries and such.

Ambient Home Care directly employs all of its caregivers!

Are the agency´s caregivers bonded and individually insured for professional liability and workers compensation insurance?

With all that goes on in the world today you need to be protected. If the caregiver falls and hurts themselves, the agency must be properly insured. If you were to self employ or hire an independent contractor company or registry, you would fall liable for this and other possible unscrupulous activities. Click here for an interesting article from the National Private Duty Association. For many agencies, you will find that their administrative staff is licensed and bonded and not their actual caregivers. Unless the answer to question #1 is yes, then how could they. You can´t insure and bond someone that is not your employee.

All Ambient Home Care employees are individually insured and bonded!

Can the agency´s caregivers provide personal care assistance?

Only a licensed health care service firm can employ Certified Home Health Aides (CHHA´s). In the state of New Jersey only a CHHA can provide personal care such as assistance with bathing and dressing within the home. CHHA´s in New Jersey must satisfy state–regulated training requirements by licensed training facilities. In addition, a CHHA goes through criminal background checks, including finger printing, and must be a U.S. citizen or authorized to work in the United States.

Ambient Home Care only provides Certified Home Health Aides which means that YES, our caregivers can provide personal care!

Does a Registered Nurse initially evaluate my loved one's needs and then supervise all care given thereafter?

It is important that a health care professional, at the start of services and periodically throughout, supervise the client. If there are changes to the plan of care, who is monitoring these changes? If a family member has a question or a caregiver has become increasingly concerned with something related to the client´s care, it is extremely important and comforting to have clinical advice from someone familiar with your loves one´s needs. Also, because only a CHHA can be employed under the careful eye of an R.N., the answer to this must be yes if personal care is given.

As a client of Ambient Home Care, you will initially be met by an RN who will evaluate and develop a plan of care. You will be visited by an RN from Ambient Home Care on a regular basis to address any changes in condition. You can call anytime to speak to an R.N. if you have any questions or concerns.

What are the agency´s hours of operation?

A home health care agency´s responsibility doesn´t start at 9am and end at 5pm. It is a 24 hour a day, 7 day a week, 365 day a year responsibility. It is important to have peace of mind knowing that your home health care agency is accessible when you need them. What happens if a caregiver´s car breaks down on a Saturday afternoon? Is the home health care agency open or accessible to find a replacement caregiver? Are they going to make sure they have a qualified caregiver in the event such an emergency occurs? It is extremely important that the agency can react to any emergencies at any given time.

We´ll be there! Ambient Home Care is open 7 Days a week, 365 days a year and is accessible 24 hours a day.
The level of care your loved one receive depends on their needs. We have the healthcare pros to make that perfect fit and keep them safe & content right at home!

We offer:

Daily Living Assistance; including things like bathing & dressing
Transportation Services
Housekeeping

Companionship Services; including recreation & conversation
Skilled Nursing Care

Get in touch with us! We'll be happy to set up an appointment to assess your situation and offer the services you need for your loved one to live their best life!